EP 72 – Avoiding the "If Only" Mindset | Pendergrass MA Academy owners Guy & Rob Pendergrass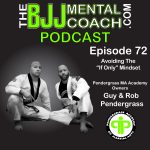 Guy and Rob Pendergrass are black belts from Gustavo Machado and they are co-owners and operators of the Pendergrass Academy of Martial Arts.
This was the first time I interviewed two people at the same time, and I believe that you will enjoy this format.
They shared their thirty years of Martial Arts experience, they talked about treating your business like a business, not as a hobby.
And My main takeaway from the interview came when we talked about what they called the "'if only" Mindset. If only I had more money, If only I had more time, If I only were more intelligent, If only I had started earlier…and so on, which inspired me to title this episode AVOIDING THE "IF ONLY" MINDSET.
Stick around for my final thoughts after the interview when I expand on how to avoid the "If Only" Mindset.
Subscribe, rate, and review the podcast! I would love to hear your feedback about the show; you can reach me at info@thebjjmentalcoach.com
Enjoy the podcast! OSS!
Gustavo Dantas
The BJJ Mental Coach – https://tinyurl.com/y294v9rj 
Itunes – https://tinyurl.com/y45kymp4
Google Plus – https://tinyurl.com/ydetberf
Stitcher – http://tinyurl.com/y52f5u6z
Resources:
Books:
E-Myth Revisited – Michael Gerber