EP 137 – Christina Houck |Nonprofit Organization A New Grip Co-founder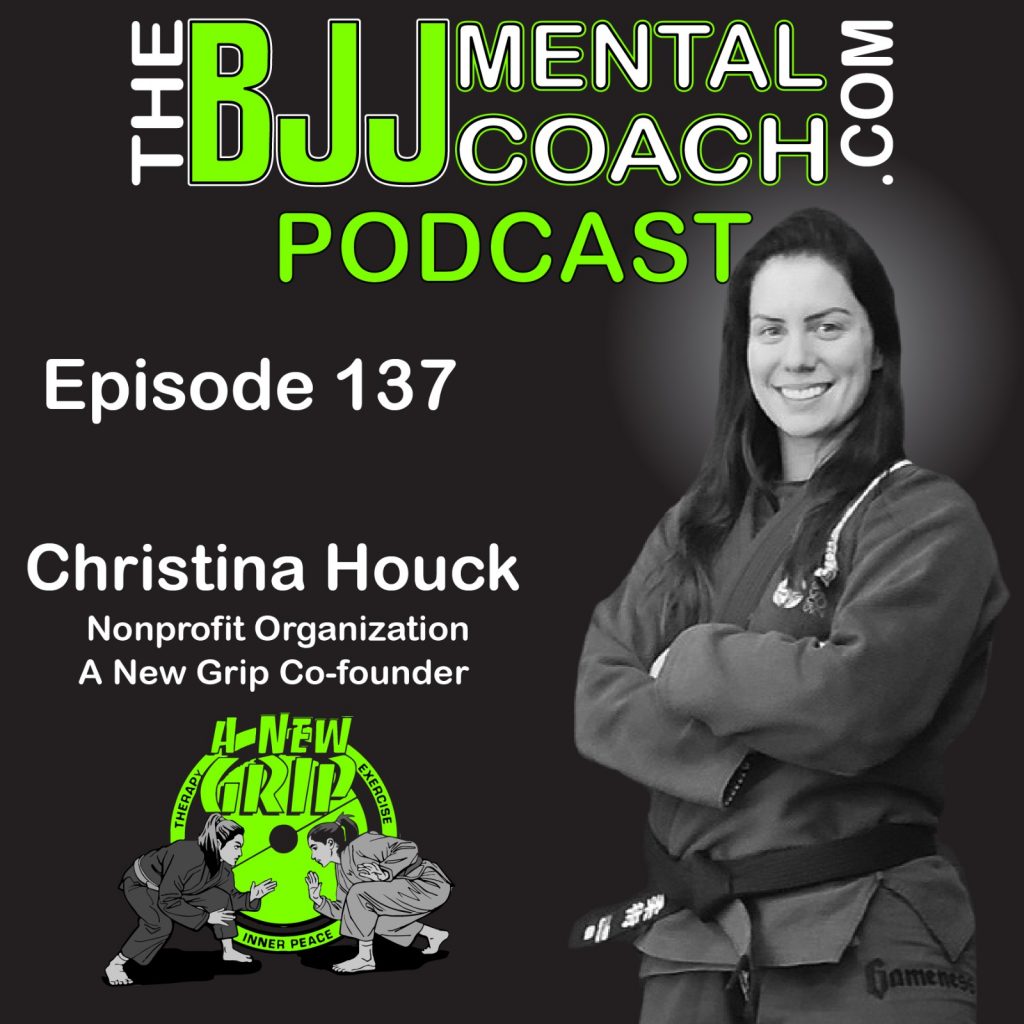 Today, I interviewed the jiu-jitsu black belt Christina Houck, the co-founder of the nonprofit organization A New Grip, along with Samantha Glenn. The Mission of A New Grip is to help sexually exploited individuals and human trafficked survivors regain their lives and find their inner peace again using Brazilian Jiu-Jitsu as a form of therapy and exercise.
Let me give you more information on the matter:
Human trafficking is a significant problem worldwide, affecting millions yearly. Most victims of human trafficking are women and girls, accounting for 71% of all victims. Sexual exploitation is a form of human trafficking involving the use of force, fraud, or coercion to exploit someone for commercial sex. According to the International Labor Organization (ILO), an estimated 4.8 million people are victims of forced sexual exploitation worldwide.
In the United States, sex trafficking is the most commonly reported type of human trafficking, with the National Human Trafficking Hotline receiving reports of 6,326 cases in 2019. The average age of entry into commercial sex work in the United States is 12-14 years old, and many victims have a history of abuse, neglect, or trauma. Sexual exploitation and human trafficking often occur in industries such as strip clubs, massage parlors, and escort services, as well as through online platforms.
Globally, an estimated 25 million people are victims of forced labor worldwide, including forced sexual exploitation. In addition, human trafficking generates an estimated $150 billion in profits each year for traffickers, making it one of the most profitable criminal activities in the world.
It's important to note that these statistics are estimates based on available data, and the number of victims may be higher. Furthermore, due to the clandestine nature of human trafficking, it can be challenging to accurately measure the extent of the problem. However, by raising awareness and taking action to support victims and prevent human trafficking, we can work towards ending this heinous crime. That is what we're doing here today.
Christina is an accomplished fitness and Brazilian Jiu-Jitsu coach with experience in local and international events. After training in MMA at Ultimate Athletics in New York, she competed in multiple grappling tournaments. Eventually, she taught Brazilian Jiu-Jitsu at an all-girls school in Abu Dhabi, UAE. While there, she won three consecutive UAE Jiu Jitsu World Pro Championship coach titles.
Christina received her black belt in 2022 under Rene Nazare-Azevedo, and since 2020 she has partnered with Samantha Glenn to make their dream come true, passing on their passion and knowledge to those who need it.
Enjoy!
Gustavo Dantas
www.thebjjmentalcoachpodcast.com
Itunes – https://tinyurl.com/y45kymp4
Google Plus – https://tinyurl.com/ydetberf
Spotify – https://tinyurl.com/4wxs83y3
#bjjpodcast #jiujitsupodcast