EP4 – Personal responsibility in entrepreneurship | GB Head of Development Flavio Almeida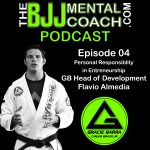 Welcome to episode 4 of The BJJ Mental Coach Podcast! Today's guest is Flavio Almeida. Flavio, who is a World-class competitor, is a 4th degree black belt in jiu-jitsu under Carlos Gracie, Jr. He is the Head of Development for Gracie Barra, the largest organization in the world, and also run several Gracie Barra locations in Arizona.
He shares how a Jiu-jitsu competition experience helped him to have a breakthrough and learn to take responsibility not only on the mat but also in life. He also shares his successes, failures and struggles of his journey that will inspire your journey as well.
Check out my Final Thoughts from the interview at [48:00] where I share my take aways and teach personal development.
Subscribe to www.thebjjmentalcoach.com and receive for FREE the audio to download and watch the videos of the "Top 10 Mental Mistakes BJJ Competitors make and how to avoid them."
Subscribe, rate and review the podcast! I would love to hear your feedback about the show, you can reach me at info@thebjjmentalcoach.com
Enjoy the podcast! OSS!
Gustavo  Dantas
*****************
Flavio Almeida
INSTAGRAM – @flavioalmeidagb
FACEBOOK – https://www.facebook.com/flavioalmeidagb