GDT#3 – To Compete or Not To Compete?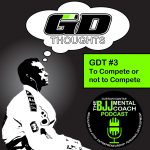 To compete or not to compete? If you have competed before, most likely, you have noticed that you have more focus and discipline with your training and your diet when you are getting ready for competitions. It's a no brainer that helps with the process of developing and refining your jiu-jitsu game. For those who have never competed before, they may ask: "That's it? Refine my game? What else? Why should I compete?"
In this audio, I will share with you other competition benefits', and how to deal with the negative voice that lives in your head 24/7 that could be even preventing you from signing up for a tournament.
Enjoy! OSS!
Gustavo Dantas